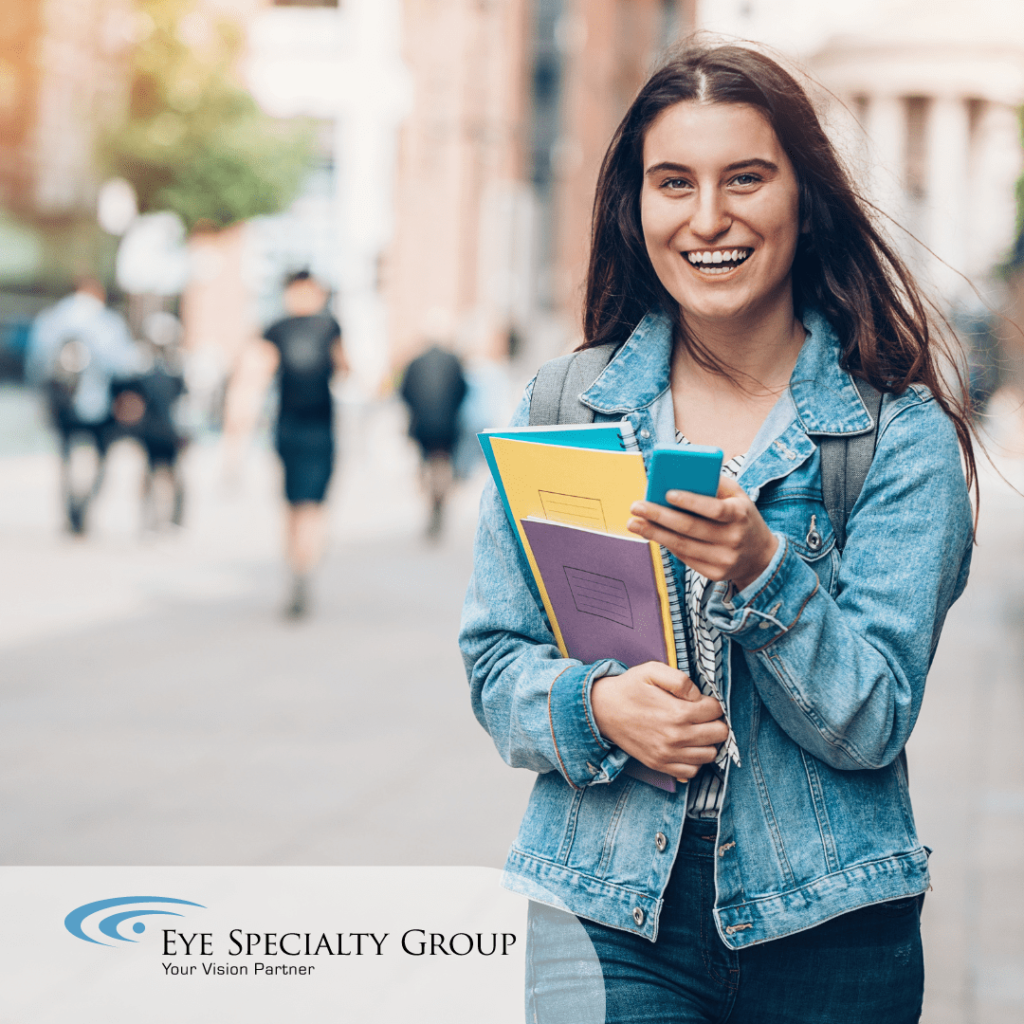 Since 1998, laser-assisted-keratomileusis (LASIK) has helped millions of people across the globe achieve better vision without relying on eyeglasses or contact lenses.
LASIK surgery is used to correct nearsightedness, farsightedness, and astigmatism and is recommended for people who are at least 18 years old, have stable vision, and no serious health conditions. These conditions apply to the average young adult heading off to college, making him or her the ideal candidate for permanent vision correction.
LASIK can help you see your future clearly—both figuratively and literally. Learn why laser vision correction holds several distinct advantages for those looking toward a brighter tomorrow.
LASIK can improve your overall quality of life
Got early classes? Imagine grabbing a few extra minutes of sleep if you could take your morning and evening contact lens rituals out of the equation. You'll see your instructors, reading materials, and campus settings more sharply than ever without constantly buying replacement lenses. Life is just easier after LASIK.

LASIK is quick, comfortable, and has a high success rate
The LASIK procedure takes just minutes per eye and is minimally invasive, meaning recovery is swift. Patients can usually return to work, school, and sports within a day or two, often with better eyesight than they've ever had. It's no wonder LASIK is the top elective procedure and enjoys such a high patient satisfaction rate.
LASIK can reduce your risk of eye injuries
By reducing or eliminating the need for glasses or contact lenses, LASIK can help you significantly lower your risk of eye injuries. Think about it:
No more lost, torn or slipping contact lenses in the middle of the game.
No more painful contact lens intolerance from studying and staring at screens for hours.
No more eyeglasses getting smashed into your face during recreational activities.
No more dust from the playing field getting trapped under your contacts.
And fewer trips and falls due to vision issues.

LASIK can be done during summer break so you don't have to miss classes
The short recovery time of LASIK means you can schedule yours for just about any school break you want. There is minimal downtime associated with this procedure, so most patients are able to hit the books comfortably to prepare for the next exam.

LASIK patients trust Eye Specialty Group
Eye Specialty Group prioritizes your safety and comfort above all else. Our LASIK center is a state-of-the-art facility staffed by a talented team of surgeons and support staff, so we can offer a complete range of vision correction procedures.
To see whether LASIK is right for you, take our short LASIK Self-Test. Then schedule a consultation as your first step in discovering how this life-changing procedure can help you. You can be confident that we'll take every measure to ensure a smooth and positive experience from start to finish.
ABOUT EYE SPECIALTY GROUP
Eye Specialty Group offers patients a wide range of vision services, from specialized glaucoma treatment, laser cataract surgery and retina surgery to LASIK and eye reconstructive surgery. Vision correction procedures include Blade-Free iLASIK, PRK, Implantable Contact Lenses, Clear Lens Exchange and Blade-Free Laser Cataract surgery with Lifestyle IOLs. Our dedicated and caring professionals are here to provide the best possible care to you and your family. Contact us at (901) 685-2200 or visit us online at EyeSpecialtyGroup.com.
---