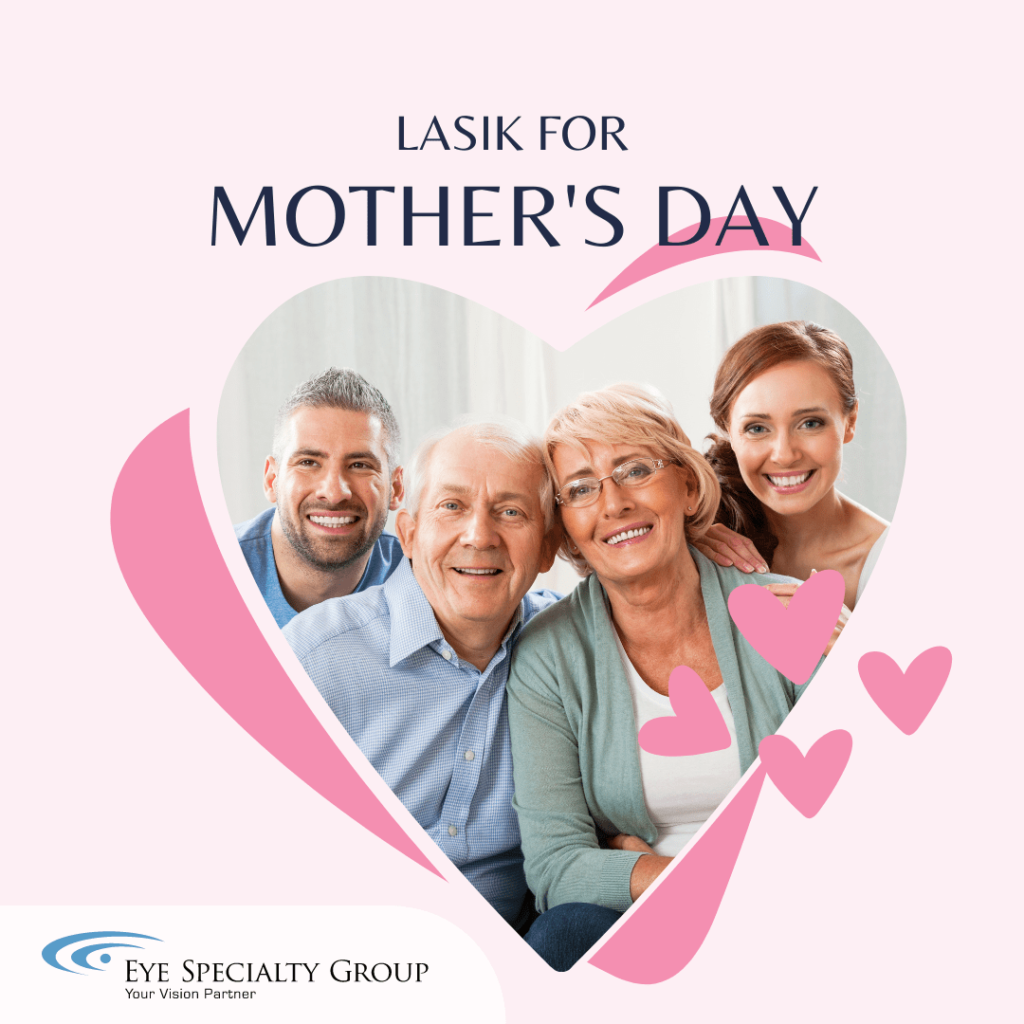 Aside from the gift of life our moms gave us, there are few gifts greater than the freedom and independence that comes with improved vision.
If you're considering LASIK for your mom or yourself this Mother's Day, she'll be in good hands with Eye Specialty Group. Learn why so many moms trust us with their vision.
Eye Specialty Group performs advanced, all-laser iLASIK.
At Eye Specialty Group, we utilize advanced LASIK technology to provide our patients with gentle, all-laser procedures. This provides some key advantages to our patients:
Greater precision
Improved safety
Faster healing
Better visual outcomes
For many patients, all-laser LASIK may also be more comfortable compared to older vision correction technologies. For a busy mom with lots on her mind, less discomfort is a plus.
Mom can say goodbye to drawers full of glasses.
Sometimes it's what you don't see that means the most to an organized mom. After LASIK, you can get rid of all those "cheater readers," glasses or contact lens supplies piling up on your desk, kitchen counter, bathroom sink and more. That means less clutter … which is good, because you're going to see it all more clearly!
Eye Specialty Group can customize treatment to Mom's unique eyes.
We appreciate how special moms are – and we also know her eyes are as unique as she is. That's why we work closely with each patient on an individualized treatment plan. Because there may be more than one possible solution, we take into account the patient's needs, vision goals and lifestyle to find what works best.
Some patients find they are simply not good candidates for LASIK at all. This may be for any number of reasons, such as thin corneas. Eye Specialty Group also performs EVO Visian ICL procedure, in which a lens is placed just beneath the outermost surface of the eye to correct vision without compromising existing tissue. Patients sometimes describe the EVO procedure as "A contact lens you never have to remove." Talk about convenience! Your surgeon will make sure you understand all your options so you can make an informed decision.
Moms can meet with some of the most talented eye doctors in the region.
Hundreds of 5-star reviews can't be wrong. Eye Specialty Group patients regularly praise our doctors for their diligence in explaining LASIK, working with them on the right treatment approach, and achieving great visual outcomes.
Book a consultation for yourself or a special mom in your life by calling (901) 685-2200, or visit our scheduling page to request an appointment online.
ABOUT EYE SPECIALTY GROUP
Eye Specialty Group offers patients a wide range of vision services, from specialized glaucoma treatment, laser cataract surgery and retina surgery to LASIK and eye reconstructive surgery. Vision correction procedures include All-Laser iLASIK, PRK, Implantable Contact Lenses, Clear Lens Exchange and Blade-Free Laser Cataract surgery with Lifestyle Lens Technology. Our dedicated and caring professionals are here to provide the best possible care to you and your family. Contact us at (901) 685-2200 or visit us online at EyeSpecialtyGroup.com.
---