LASIK Financing
Eye Specialty Group believes that LASIK or any other refractive surgery, should be affordable for every budget, and that's why we offer a variety of financing options!
Finance Your Procedure
CareCredit healthcare credit card for better vision

There is an easier way to pay for your vision care including LASIK. We're pleased to accept the CareCredit credit card, North America's leading patient healthcare financing program. CareCredit lets you begin your procedure immediately — then pay for it over time with monthly payments that fit easily into your monthly budget. Whether you're considering LASIK, need cataract surgery, or it's simply time for new glasses or contacts, CareCredit can help you see clearer, sooner.
Your healthcare credit card
CareCredit is the credit card exclusively designed for healthcare services. CareCredit offers special financing on purchase of $200 or more* for healthcare procedures not commonly covered by insurance, including LASIK and Premium-IOLs.
Why put off improving your vision tomorrow, when you can see clearer today?
*Subject to credit approval. Minimum monthly payments required. Visit www.carecredit.com for details.
---
Alphaeon Credit
We proudly offer low fixed monthly payment options through Alphaeon. Check with your scheduler to see if you qualify for one of our zero-interest plans.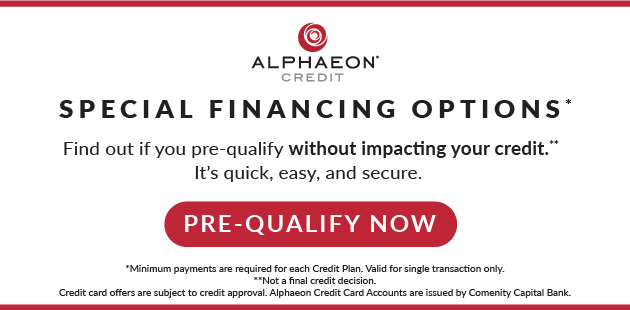 ---
Pay For Your Procedure
Flexible Spending Account (FSA)
Ask your Refractive Counselor how your FSA funds may apply.
Tax Benefits
Depending on your filing status, LASIK may be tax deductible. Consult your tax specialist for details. You can even use our great financing plan to have the procedure today, and pay with your tax refund tomorrow!
Credit Cards
We accept all major credit cards. Many patients enjoy their personal card's low interest rates or cards with reward features. Enjoy your new vision on a vacation!
Laser vision correction will affect the way you see for the rest of your life; therefore, you should make your decision carefully. The best way to determine your cost of LASIK, or an alternative refractive surgery like PRK, is to schedule a Free LASIK consultation!