James A. Savage, MD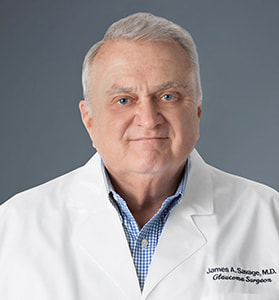 Ophthalmologist Memphis
James A. Savage, M.D. received a B.A. in Chemistry from Northwestern University and his medical degree from the University of Cincinnati in Cincinnati, Ohio. He completed his internship at Baylor University Medical Center and his residency in ophthalmology at Ohio State University Hospitals in Columbus, Ohio, where he served as Chief Resident from 1978 to 1979.
Dr. Savage completed a clinical fellowship in glaucoma at the Massachusetts Eye and Ear Infirmary at Harvard Medical School and has been in private practice for 40 years.
Dr. Savage has served on the faculties of Ohio State University Hospital, the University of Texas- Southwestern Medical School, and the Medical University of South Carolina. He is a Fellow of both the American Academy of Ophthalmology and the American Glaucoma Society. He has received the American Academy of Ophthalmology Honor Award and Senior Achievement Award. He has served as an instructor at numerous American Academy of Ophthalmology meetings since 1984 and has been a lecturer at numerous national and international glaucoma meetings. He is on the committees responsible for the educational services provided by the Academy. He has been a Journal Peer Reviewer for five ophthalmological publications since 1986 and, in 2004, was awarded a patent on a method and apparatus for the treatment of glaucoma.
After a successful career in amateur golf, he became a rules official for national and international competitions. In the off-season, he makes scale military models for veterans.
He and his wife, Mary, with their two daughters live in Memphis.